Our Pools Mainpage: www.suprnova.cc. Our Twitter: twitter.com/SuprnovaPools Be sure to follow us for updates and news !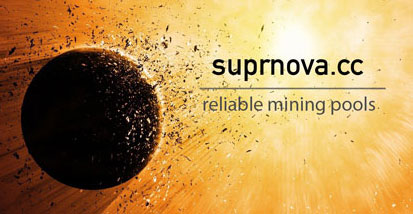 Suprnova's Bitcoin Interest Pool // Algo: ProgPOW // LIVE !
stratum+tcp://bci.suprnova.cc:9166
This is the NEW ProgPOW Pool of Bitcoin Interest, it has forked to a NEW chain using progpow algo. You must mine with a progpow compatible miner.
Round Statistics
Block Statistics
PPLNS Round Statistics
ID
55,478
PPLNS Shares
54,304
Height
139,887
Estimated Shares
3,931,824,034
Amount
10.26
Target Variance
7,240,394.88 %
Confirmations
Confirmed
Block Average
54,308
Difficulty
959917.9770998
Average Efficiency
7,239,914.92 %
Time
2021-03-29 05:55:23
Target Rounds
10
Shares
92,277
Seconds This Round
23,134
Finder
kwhSF098
Round Variance
169.93 %
Round Transactions
| User Name | Round Shares | Round % | PPLNS Shares | PPLNS Round % | Variance | Amount |
| --- | --- | --- | --- | --- | --- | --- |
| kwhSF098 | 92,277 | 100.00 | 54,304 | 100.00 | 100.00 | 10.26000000 |
| Rank | User Name | Valid | Invalid | Invalid % |
| --- | --- | --- | --- | --- |
| 1 | kwhSF098 | 92,277 | 921 | 1.00 |
PPLNS Round Shares
| Rank | User Name | Valid | Invalid | Invalid % |
| --- | --- | --- | --- | --- |
| 1 | kwhSF098 | 54,304 | 64 | 0.12 |